UNSERE AKTUELLEN PRODUKTIONEN
Motette-Editions since 2020
A new project - BACH IN THE WORLD
Wir sind derzeit in den USA, um mit dem Organisten Stefan Engels, unserem Direktor Giovanni Solinas und dem Tonmeister Jean-Philippe Apel zwei CDs unserer neuen Sammlung aufzunehmen, die dem gesamten Orgelwerk von Johann Sebastian Bach gewidmet ist.
Unten finden Sie einige Fotos (Copyright: Lydia Ramos), die während der Aufnahmen an der wunderschönen Orgel der Universität von South Bend in Indiana gemacht wurden.
Mehr Informationen demnächst...
We are currently in the USA to record two CDs of our new collection dedicated to the complete organ works of Johann Sebastian Bach with organist Stefan Engels, our director Giovanni Solinas and sound engineer Jean-Philippe Apel. Below are some photos (copyright: Lydia Ramos) taken while recording at the beautiful organ at South Bend University in Indiana.
More information coming soon....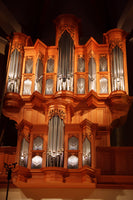 NEWLY AVAILABLE RECORDINGS
Wir sind immer für Sie da!
We are always there for you!
Siamo sempre a vostra disposizione!
Wij zijn er altijd voor u!
Nous sommes toujours là pour vous !
Estamos siempre a su disposición.
Мы всегда рядом с вами!
我們隨時為您服務!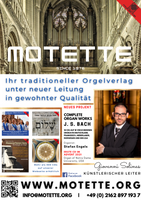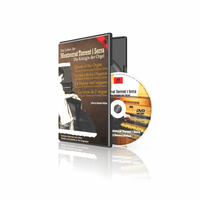 DVD - Die Königin der Orgel
1926 geboren, gibt Monserrat Torrent auch mit weit über 90 Jahren noch Konzerte. Musik bedeutet ihr alles, nicht nur, weil sie davon überzeugt ist, dass die Musik ihr einst Leben gerettet hat. "Die Musik war es, die mich vom Krebs geheilt hat", sagt Torrent, die als eine der letzten "Grandes Dames" der Orgelwelt gilt. Ihr Leben lang hat sie sich vor allem für die Orgelmusik ihrer iberischen Heimat eingesetzt. Der Organist Giovanni Solinas hat sich zusammen mit der außergewöhnlichen Künstlerpersönlichkeit auf eine Entdeckungsreise durch ihr Leben begeben.
MEHR INFO
Motette worldwide first - das Repertoire - die Interpreten - die Orgeln.

Professor Klemens Schnorr
Die traditionsreiche Motette ist super für mich, meine Studierenden, Kolleginnen und Kollegen, denn hier finden wir immer genau das, was jetzt dringend benötig wird, und das erfahrungsgemäß stets in bester Qualität.

Professor Torsten Laux
Motette bereichert die internationale Orgelwelt mit wegweisenden Interpretationen auf historischen und modernen Instrumenten.   

Professor Klemens Schnorr
Location
Motette Psallite Verlag